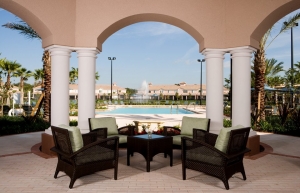 Have you dreamt about owning a home in a resort-style community, where living all year round or a winter get away is a home away from home? Welcome to BellaTrae by Del Webb located in Champions Gate, Florida. It's time to find out what life has to offer by doing what you enjoy most, living amongst a community that enjoys the same lifestyle, learning new trades, but most importantly, letting you find out who you are along the way. Each home built in BellaTrae was designed with award-winning design features and detail that will go beyond your expectations.
BellaTrae's amenities begin with Bellavita, the 12,500 square foot clubhouse and a private gathering area for BellaTrae's residents. The multi-functional rooms can be used for a handful of activities including billiards, cards, crafts, speakers, health screenings, financial workshops, socializing, and more. You can come into the Media Room and catch up on the latest news, surf the web, or browse through the collection of books on the shelves.
The pool was designed for both social bodies and those who like to keep fit. The fitness center is stocked with plenty of equipment for everyone, fitness instructors from Celebration Hospital's Fitness Centre, Pilates, Cardio-Strength, Aquatic Fitness Challenge, Latin Grooves.
Located just outside of the clubhouse, BellTrae residents can enjoy the putting green and bocce ball courts on an eventful evening out. If you are a golf lover, BellaTrae has excellent relationships with other famous golf courses such as Falcon's Fire, Metro West, Kissimmee Bay, Remington Golf Club, and Turtle Creek that provide you special privileges and discounts any course that interest you.
Excursions can be planned by the Activity Director, whether it be day trips or international vacations. Outdoor activities, shopping trips, Disney visits, nature walks and many more are some of the events that residents of BellaTrae can look forward to. Some day trips may include Disney, The Kennedy Space Center, shopping trips to the Outlets, and a night in the historical city of St. Augustine, Williamsburg, VA., and much more.
Drive through this beautiful community today and find which home suites you. The Promenade collection provides you with 2 story stacked flat homes ranging in sizes from 1,438 sq. ft. to 1,857 sq. ft. The Mandalay collection homes are 2 story townhome style condominiums ranging from 2,010 sq. ft to 2,369 sq. ft. The Ventura collections offer 4 story condominiums ranging in sizes from 1,112 sq. ft to 1,447 sq. ft.
Taking exit 58 from I4 will bring you to this beautiful master-planned community of BellaTrae. In ChampionsGate you can find local shopping centers and drug stores for your convenience. Hoping in the car and driving just a close distance, you can enjoy a day at the Disney Theme Parks, Sea World, or Universal Studios. Driving a short distance on I4, shopping can take place at Orlando's well-known Outlets.
BellaTrae Floor Plans
The Ventura Collection
| | | | | |
| --- | --- | --- | --- | --- |
| Model | Sq Ft | Beds | Baths | Garage |
| Napa | 1,112 | 2 | 2 | 1 |
| Sonoma | 1,247 | 3 | 2 | 1 |
| Santa Cruz | 1,362 | 3 | 2 | 1 |
| Santa Rosa | 1,598 | 3 | 2 | 1 |
| Santa Anna | 2,238 | 2+ Den or 3 | 2 | 1 |
The Promenade Collection
| | | | | |
| --- | --- | --- | --- | --- |
| Model | Sq Ft | Beds | Baths | Garage |
| Heron | 1,438 | 2+Den | 2 | 1 |
| Egret | 1,536 | 2+Den | 2 | 1 |
| Spoonbill | 1,797 | 2+Den | 2 | 1 |
| Cormorant | 1,857 | 2+Den | 2 | 1 |
The Promenade Collection
| | | | | |
| --- | --- | --- | --- | --- |
| Model | Sq Ft | Beds | Baths | Garage |
| Heron | 1,438 | 2+Den | 2 | 1 |
| Egret | 1,536 | 2+Den | 2 | 1 |
| Spoonbill | 1,797 | 2+Den | 2 | 1 |
| Cormorant | 1,857 | 2+Den | 2 | 1 |
The Mandalay Collection
| | | | | |
| --- | --- | --- | --- | --- |
| Model | Sq Ft | Beds | Baths | Garage |
| Sophia | 2,010 | 3 | 2.5 | 2 |
| Mirella | 2,369 | 3+Den | 2.5 | 2 |
Orlando International Airport
Get on FL-417 Toll S in Meadow Woods from Jeff Fuqua Blvd
Head south on Jeff Fuqua Blvd
Use the right 2 lanes to turn slightly right to stay on Jeff Fuqua Blvd (signs for Terminal B)
Keep left to continue on Access Rd/Jeff Fuqua Blvd
Slight left
Keep right at the fork and merge onto FL-417 Toll S
Continue on FL-417 Toll S to Four Corners. Take exit 58 from I-4 W
Use the left lane to merge onto FL-417 Toll S
Keep left at the fork to stay on FL-417 Toll S
Keep left at the fork to stay on FL-417 Toll S
Merge onto I-4 W
Take exit 58 towards Poinciana/Kissimmee
Continue on Champions Gate Blvd. Drive to Masters Blvd
Use the right lane to merge onto Champions Gate Blvd
Turn right onto Masters Blvd