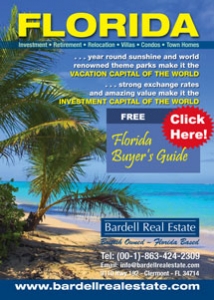 Orlando's world famous theme parks and it's reputation as the sunshine state has generated an insatiable demand from people all over the world. In addition to the traditional residential real estate markets that exist in every town and city Central Florida, in particular the area around DisneyWorld has two other real estate markets making this one of the most exciting areas in the World.
Many of our clients are "foreign investors" and have lots of questions regarding the real estate market and the sales process. We have put together information to provide you with answers to the some of the most common questions we receive – equally if you are not familiar with the process here in the State of Florida you may also find the information useful.
Put simply, they use the rental income from holiday makers to fund their investment and have the benefit of owning their own villa, condo or townhouse in Florida to enjoy with their families. Sound interesting? Good, but here are a few things you need to know.
If you are considering buying a property in Orlando as an investment or vacation home, for a second home, retirement home or as a permanent resident you will already have a list of questions that you need answered.
Written specifically for people considering buying a property in ChampionsGate this FREE document guides you through the entire process in easy to understand, jargon free steps.
It answers many of the key questions such as:
How does the buying process work?
Why do I need a Realtor?
What type of property should I buy?
Where should I buy?
How much does it cost?
Can I get financing?
Who looks after it while I'm not there?
It is essential that you use a licensed broker's service when buying your Florida home and remember – don't purchase through the agents on-site they are working for the developer.
Our services cost you nothing but you have the assurance that your best interests are being served. Order the free guide today and take the first step to ownership in this exquisite community.